Asian English Olympics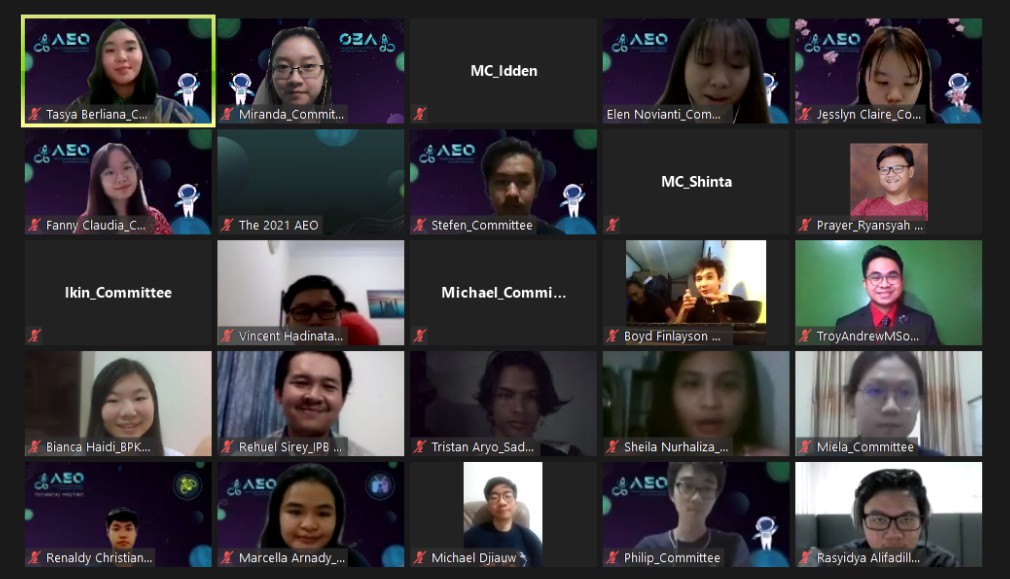 Every year, BNEC holds the most prestigious English competitions in Asia, which is the Asian English Olympics, also known as AEO. Starting from a national scope in 2012, it became one of the most anticipated international competitions by youths all over Asia until this day. Even amidst the pandemic, BNEC successfully held this event to accommodate Asian Youth's spirits to go far and beyond their limits. From time to time, the competition has 8 fields of competition available, which are Debate, Scrabble, Storytelling, Speech, Spelling Bee, Newscasting, Short story writing, and Radio Drama. But this year, there's only 7 fields of competition available, excluding Scrabble from the list as scrabble couldn't be executed   for several reasons in this online condition.
By joining the competition, participants are ensured to have memorable experiences gained from the series of events in the AEO itself, such as having Coaching Clinic with AEO's qualified judges, competing with international competitors, watching exciting ceremonies, and many more exciting events. Not only that, participants will gain international experiences, valuable knowledge, meet new faces and gain precious connections that they make along the way. The 2021 Asian English Olympics started spreading its wings on Tuesday, February 23, 2021 to Saturday, February 27, 2021 via the ZOOM Meeting Platform with the theme "Exceed Our Possibilities". This theme truly reflects our current situation where there are many limitations and hardships we face everyday amidst the pandemic. Even so, it will not stop us from developing ourselves. 
This year, 546 participants from 13 countries, including China, Bangladesh, Saudi Arabia, Japan, Thailand, South Korea, Malaysia, Indonesia, Philippines, Hong Kong, Pakistan, Macau and Vietnam displayed their talents and skill in the AEO stage, representing their country and institution. This shows that even with the pandemic around causing AEO to be held online, many Asian Youths have a strong desire to overcome their boundaries and become better than ever before. Through holding this event, we hope that we can help strengthen the bond between Binus University and other institutions from various countries, making it a strong connection that will last many years to come.