DWP 2022 DAY 1 : "Increasing Sales Through Digital Marketing Strategies for SMEs"
27 Mei 2022 – Binus International Club kembali mengadakan DWP (Discussion Week Program) dengan konsep yang sedikit berbeda dengan tahun-tahun sebelumnya. DWP kali ini diselenggarakan dalam bentuk workshop.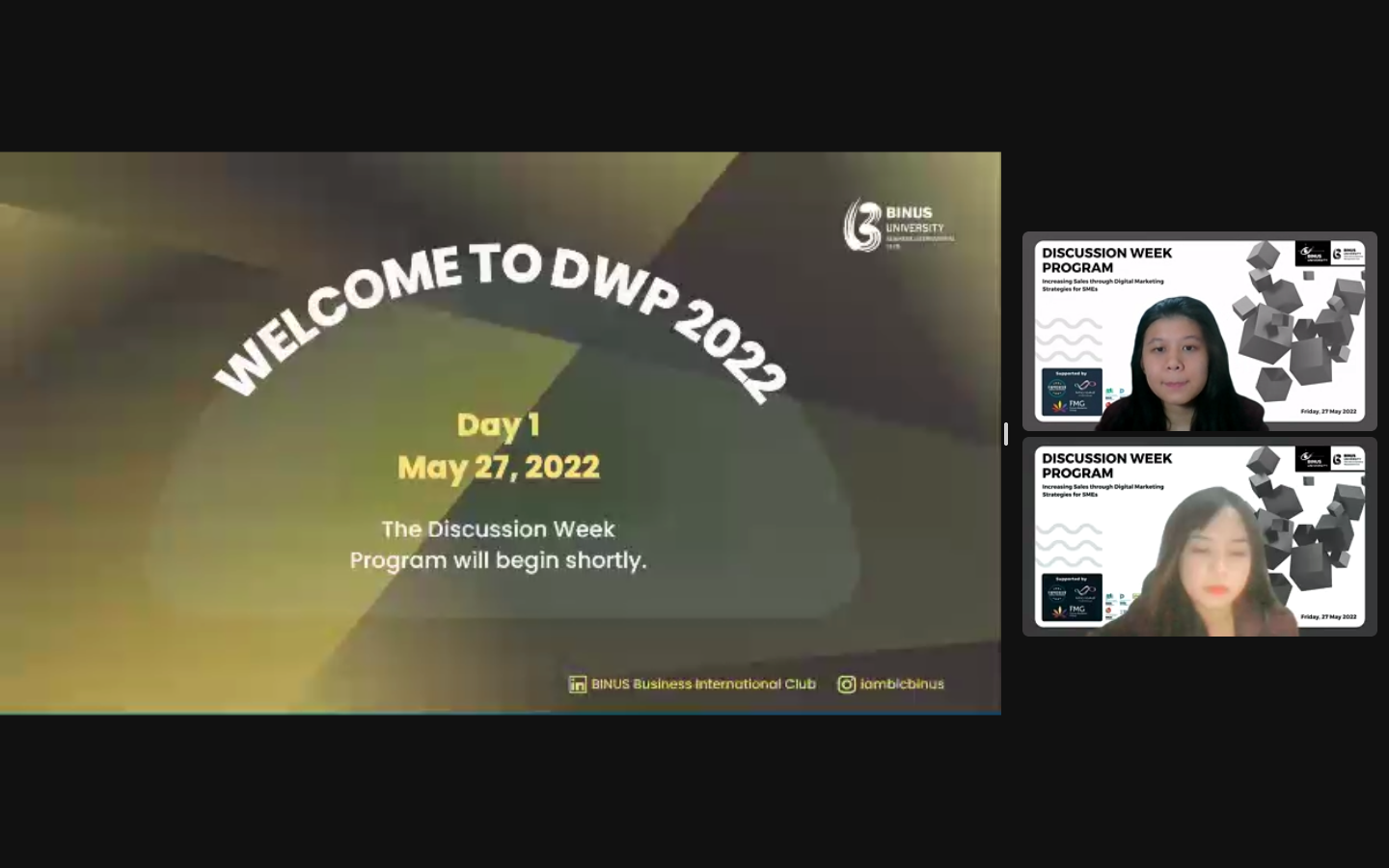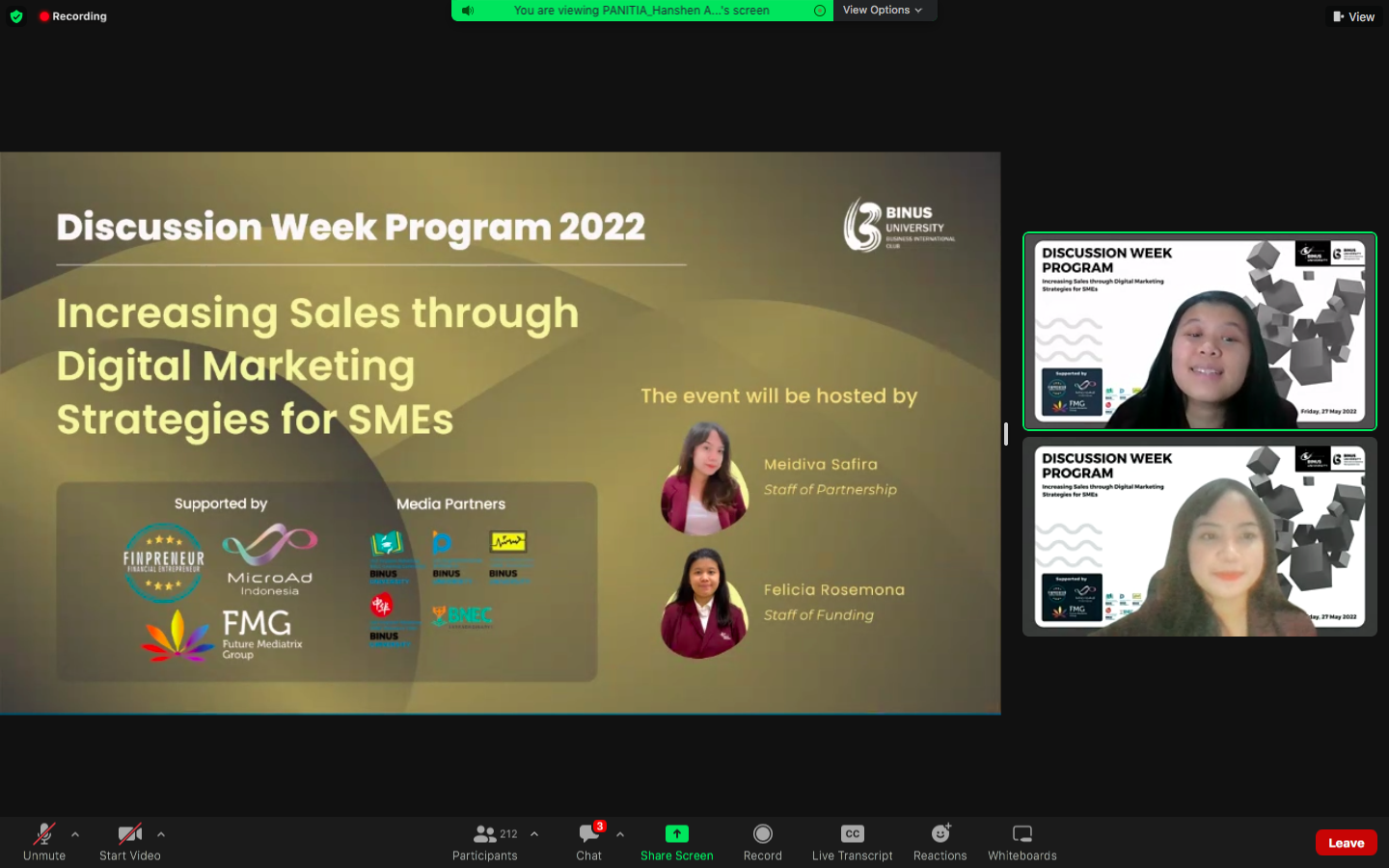 DWP 2022 berlangsung selama 2 hari, yang dimana pada hari pertama ini bertemakan Digital Marketing.
DWP 2022 DAY 1 dilaksanakan pada pukkul 18.15 WIB melalui platform zoom yang ditemani oleh 2 MC atau pembawa acara yang sangat asik, yaitu Kak Meidiva (Staff of Partnership BIC) dan Kak Felica (Staff of Funding BIC) dengan 2 Narasumber yang sangat luar biasa dibidangnya, yaitu ada Bapak Thomas Joseph (CEO of Future Mediatrix Group) dan  Kak Febri Ratna (Business Director of MicroAd Indonesia).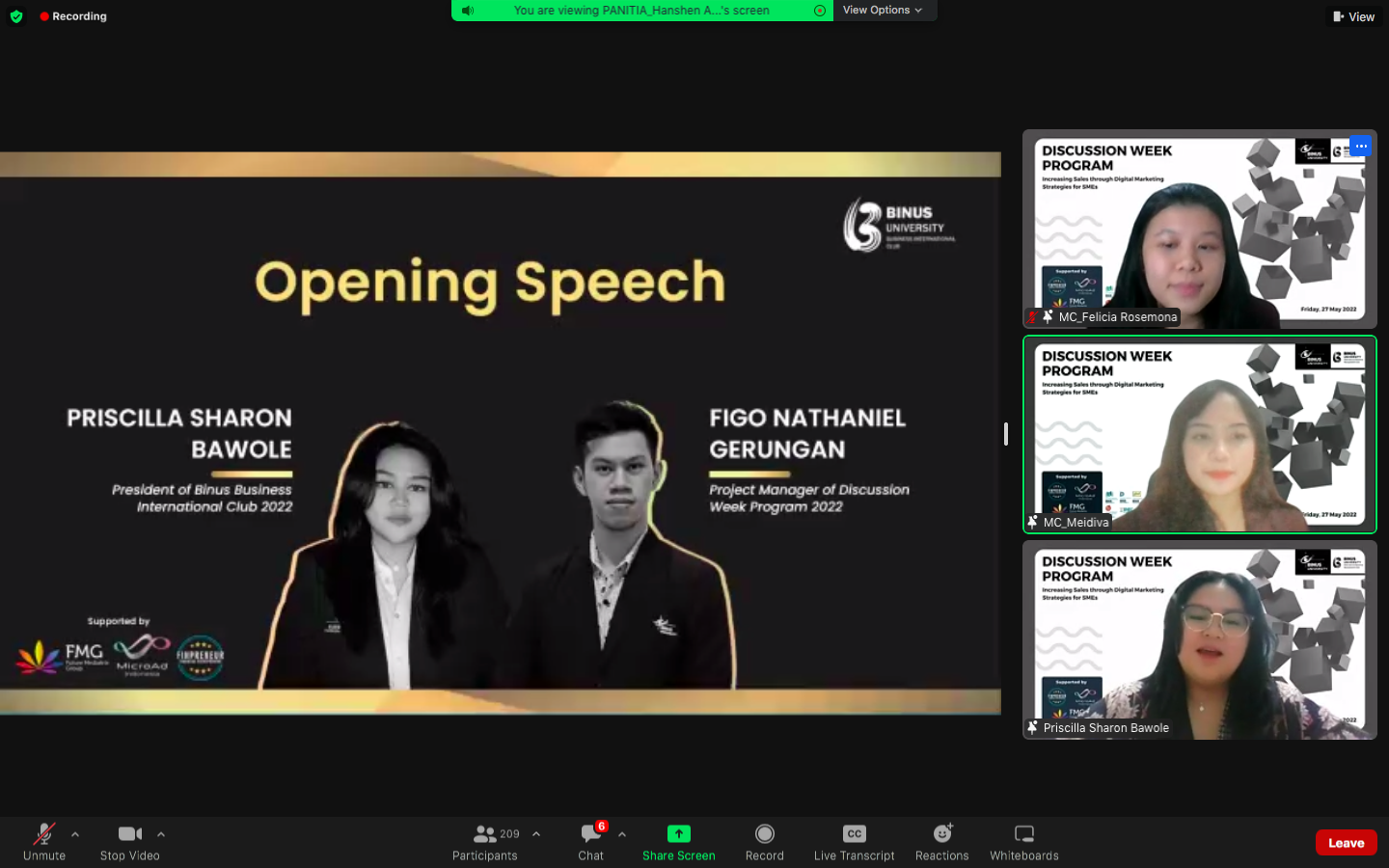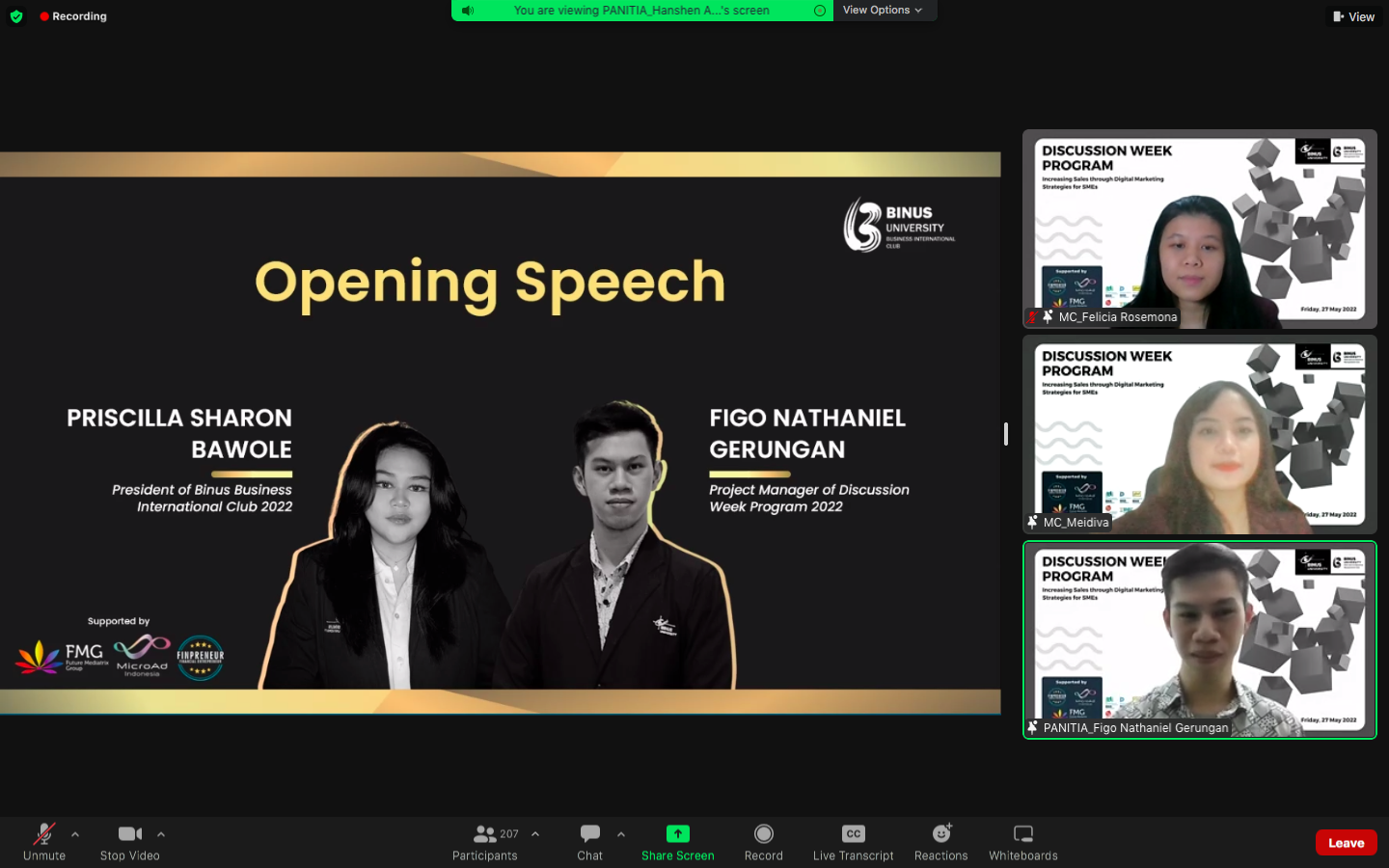 Acara ini dibagi menjadi 2 sesi materi, dimana materi 1 dibawakan langsung oleh Bapak Thomas Joseph. Selama pembawaan materi, peserta sangat antusias dan ketika tibanya sesi tanya jawab, banyak sekali peserta yang mengajukan pertanyaan serta saling berdiskusi dan sharing.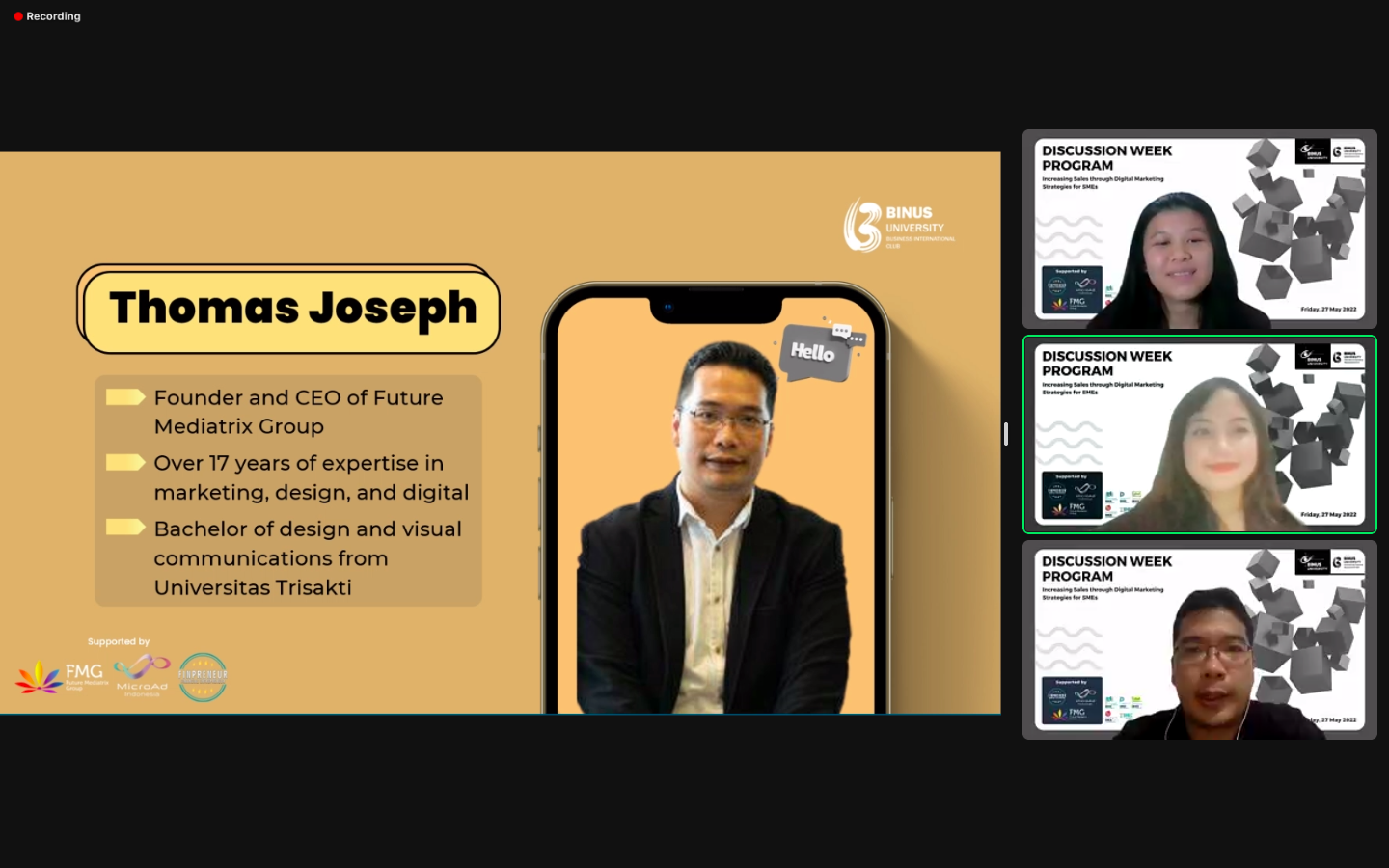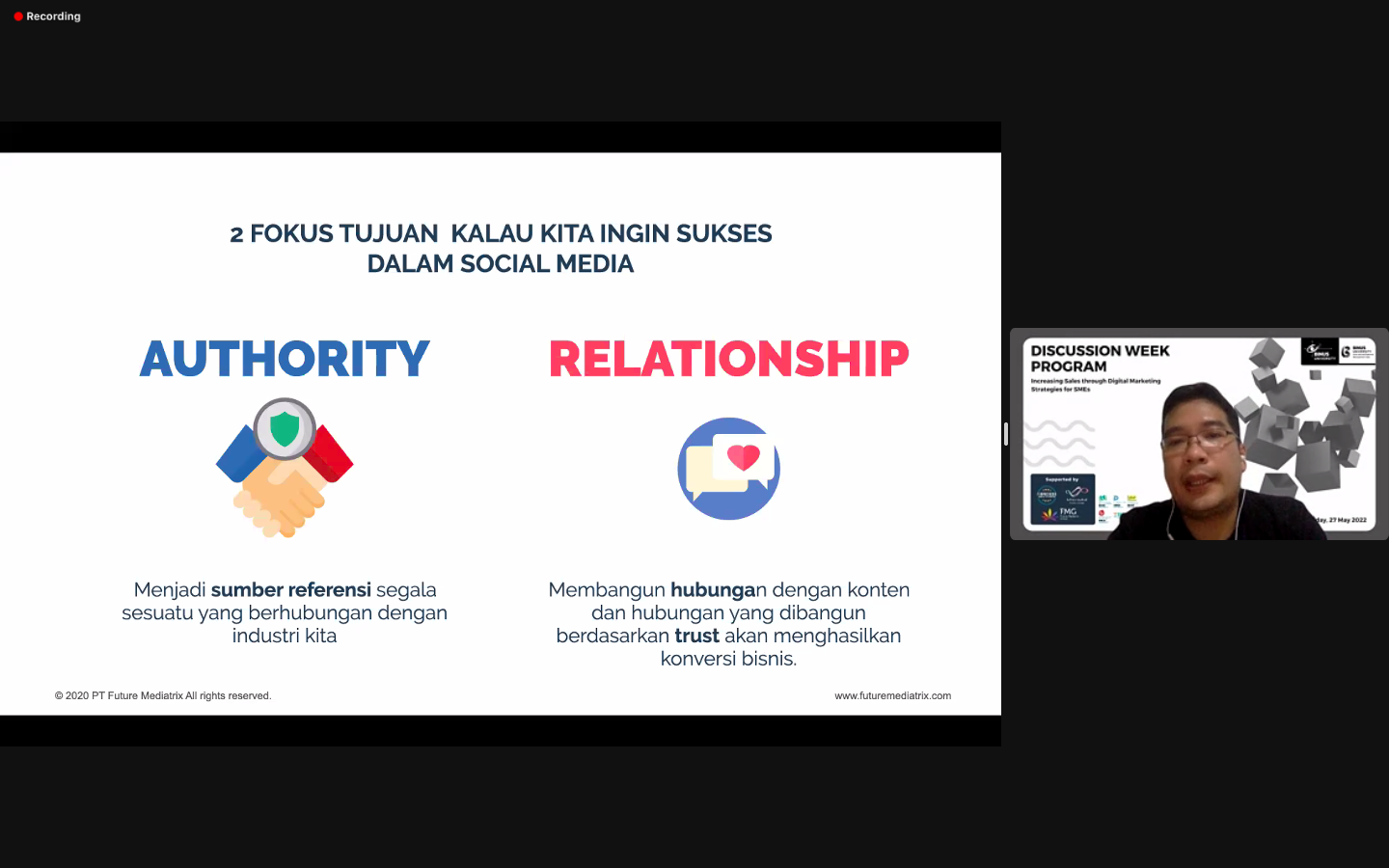 Setelah sesi materi 1 selesai, Sesi 2 langsung dimulai dan Kak Febri Ratna mengambil alih acara dengan memberikan materi 2. Setelah sesi materi 2 selesai, seluruh peserta langsung diajak untuk bermain games quizz oleh kedua MC yang sangat kece dan seru ini. seluruh peserta sangat antusias dan acara berlangsung secara meriah, seru dan sukses.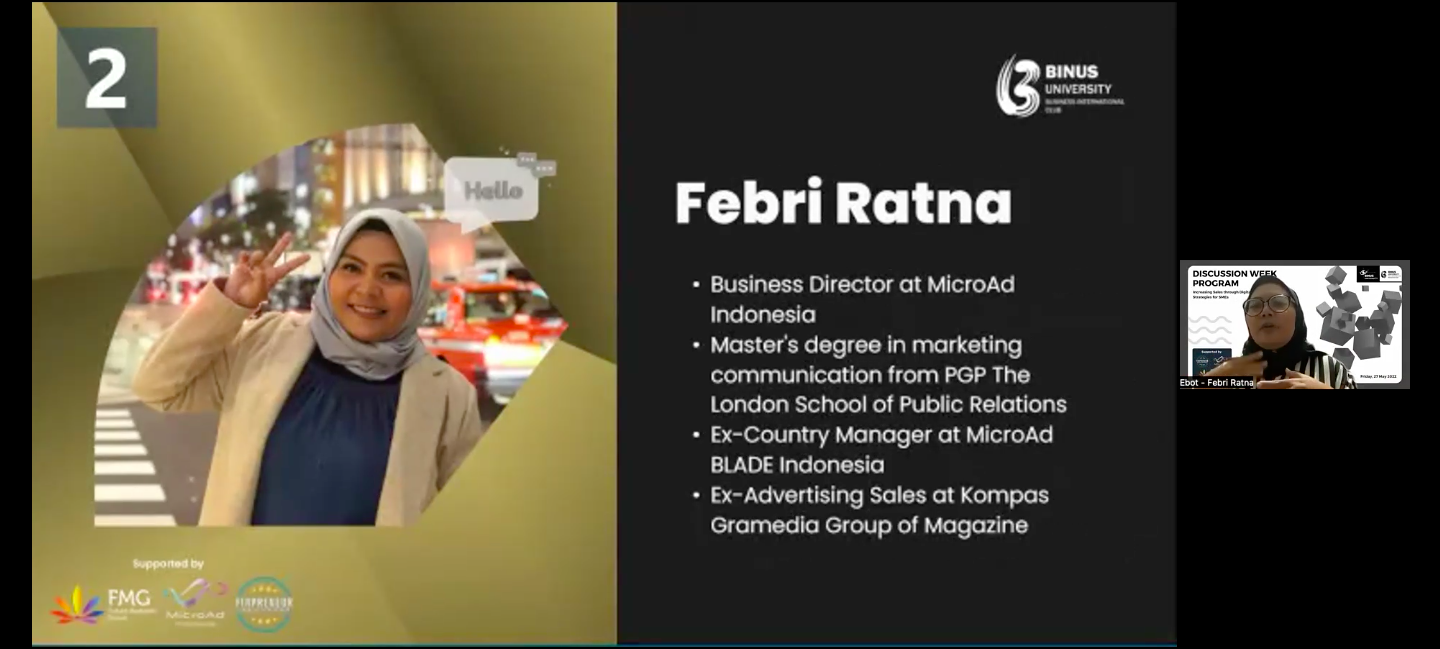 Sebelum acara ditutup, Pihak BIC memiliki sebuah sertifikat apresiasi yang dipersembahkan untuk seluruh pembicara. Sertifikat ini diberikan oleh salah satu penanggung jawab DWP 2022 ini, yaitu Andhika Wicaksono (Head of PR BIC). Setelah pemberian sertifikat selesai, acara pun ditutup dengan sesi dokumentasi foto bersama.