JOIN US!

About HIMTI
Himpunan Mahasiswa Teknik Informatika Universitas Bina Nusantara atau yang sering kita sebut HIMTI berdiri pertama kali pada tahun 1992, tepatnya pada 14 September 1992. Saat ini, HIMTI membawahkan jurusan Teknik Informatika (Regular, Global Class, Master Track), Mobile Application and Technology (MAT), Game Application and Technology (GAT), Cyber Security, Data Science, dan jurusan Ganda Teknik Informatika.
Kenali lebih jauh tentang kami melalui website resmi kami.
Brochure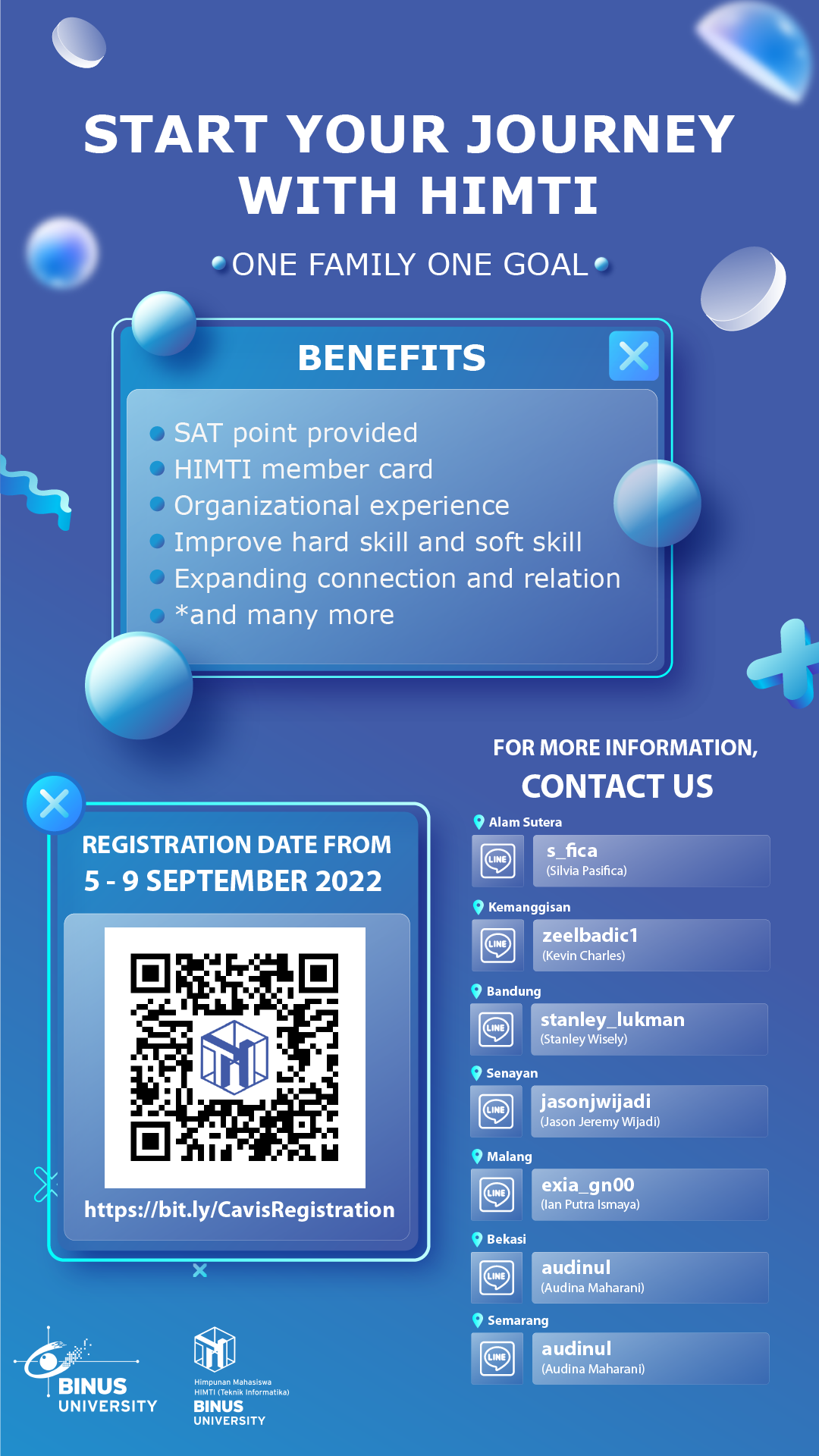 Registration link
Click here to register! (Free of charge)
Contact person
For more information, you can contact us on LINE:
🙋‍♀️ ALAM SUTERA
s_fica (Silvia Pasifica)
🙋‍♂️ KEMANGGISAN
zeelbadic1 (Kevin Charles)
🙋‍♂️ BANDUNG
stanley_lukman (Stanley Wisely)
🙋‍♂️ SENAYAN
jasonjwijadi (Jason Jeremy Wijadi)
🙋‍♂️ MALANG
exia_gn00 (Ian Putra Ismaya)
🙋‍♀️ BEKASI
audinul (Audina Maharani)
🙋‍♀️ SEMARANG
audinul (Audina Maharani)
Live Zoom meeting
Join our Zoom meeting starting from 09.00 to 15.00 WIB.
Senin, 5 September 2022:
https://telkomsel.zoom.us/j/97172390885?pwd=SWp3SFBtaTdUSVB6RWw5ZkFGNEo2QT09
Selasa, 6 September 2022:
https://telkomsel.zoom.us/j/95166391127?pwd=TjdNYUhuajBQWmlrYkM5NTNMU013dz09
Rabu, 7 September 2022:
https://telkomsel.zoom.us/j/96856241327?pwd=UEV0OXkrQ2hUQXRxZG91cFErcjRHZz09
Kamis, 8 September 2022:
https://telkomsel.zoom.us/j/92181235908?pwd=dkRIZk5CaVhHeFdTNk9hN2NVbDZ3QT09
Jumat, 9 September 2022:
https://telkomsel.zoom.us/j/97796574862?pwd=UU12TXpEczBPck0xdSs2TlNzNXlJUT09