Start Your Journey With HIMTI!

About HIMTI
Himpunan Mahasiswa Teknik Informatika Universitas Bina Nusantara atau yang sering kita sebut HIMTI berdiri pertama kali pada tahun 1992, tepatnya pada 14 September 1992. Saat ini, HIMTI membawahkan jurusan Teknik Informatika (Regular, Global Class, Master Track), Mobile Application and Technology (MAT), Game Application and Technology (GAT), Cyber Security, Data Science, dan jurusan Ganda Teknik Informatika.
Kenali lebih jauh tentang kami melalui website resmi kami.
Brochure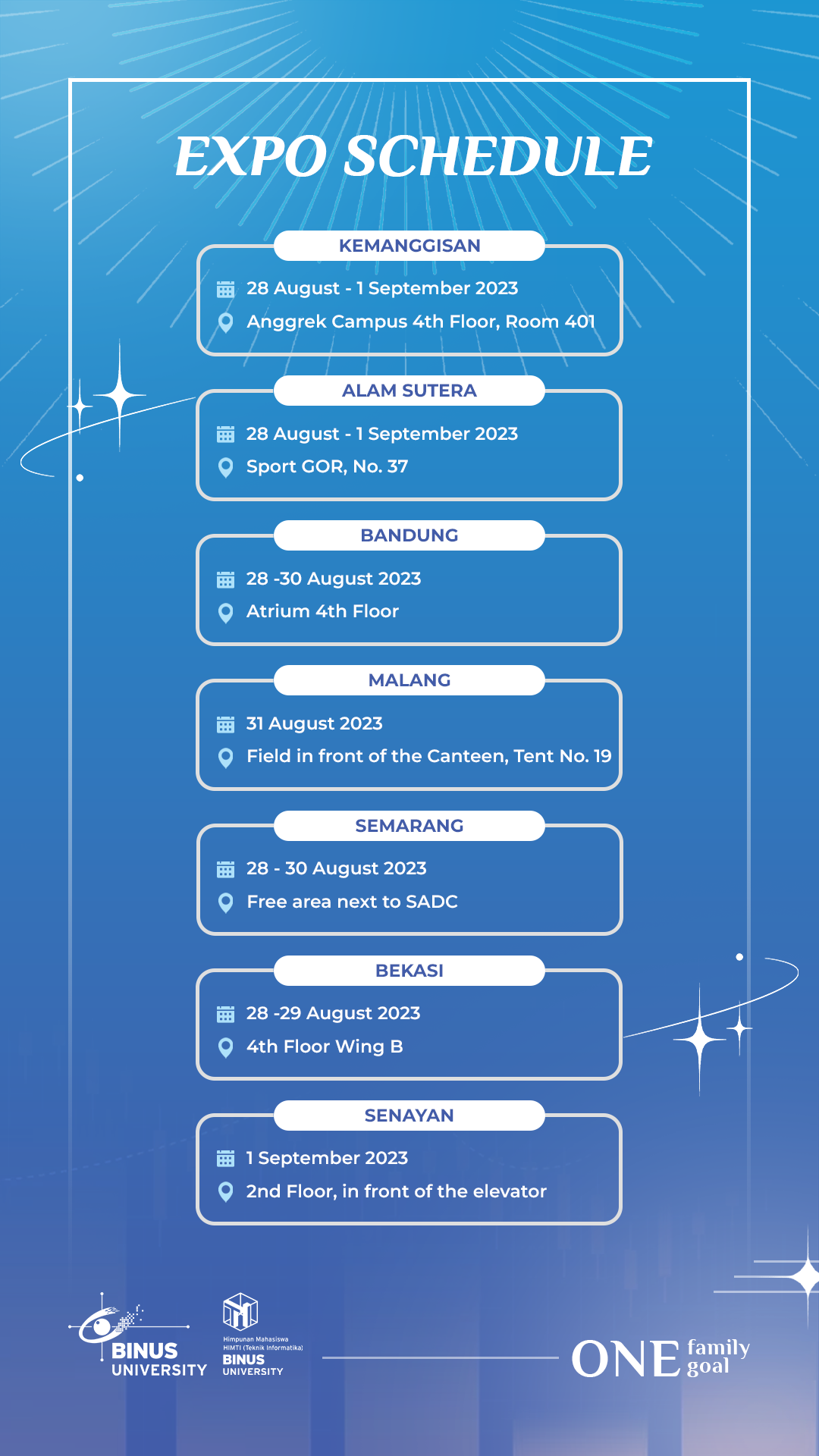 Registration link
COMING SOON!
Contact person
For more information, you can contact us on LINE:
📌 ALAM SUTERA
Aditya Abimanyu (bodoseterah)
📌 KEMANGGISAN
Sarah Karissa (jyp243)
📌 BANDUNG
Fakhira Shafa (fakhira_shf123)
📌 MALANG
Hanley Yunanda (hanley25)
📌 SENAYAN, SEMARANG, & BEKASI
Natalia Lairan (natalialairann)
Our Expo Location
1. Bandung, Atrium Lt. 4, ditengah antara stamanara dan binusian gaming
2. Kemanggisan, Kampus Anggrek Lt. 4, ruang 401
3. Alam Sutera, Gor Olahraga, no. 37
4. Semarang, Free area samping SADC, samping SADC persis di depan booth DKV
5. Bekasi, Lt 4 Wing B, depan toilet pria
6. Senayan, Lt 2, Depan Lift
7. Malang, Lapangan depan kantin, tenda nomor 19