Don't forget to join TECHNO 2021: ERA this Saturday!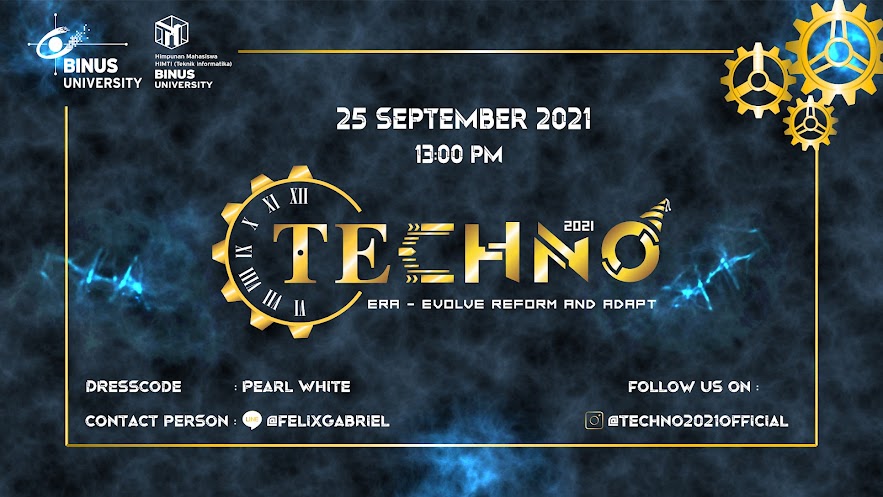 Hello BINUSIAN 2025 School of Computer Science!
We would like to remind you that this great event will start on September 25, 2021, from 13:00 to 17:00 WIB/ICT (UTC +7). Please expect some fun, excitement, and even prizes!
Haven't registered yet? Register now for benefits and prizes! Or else, please check your email and join our official LINE group to receive important information regarding the event.
Participants are expected to watch the whole event for attendance and accessing our HIMTI KIT resources. For the best experience, we recommend you to watch our livestream from your laptop, desktop, or TV.
However, before you start, please make sure that your profile details at https://registration.himti.or.id/profile are correct, including your email address, campus region (e.g. "Kemanggisan", "PPTI BCA", and "BINUS Online Learning / BOL"), contact details, as well as your Student ID number (NIM). We will use these data to conduct attendance (Check In and Check Out) on the main event as well as granting you access to our HIMTI KIT resources in the future.
We will start our livestream 30 minutes before the event starts, then announce it on our official LINE group. While waiting for the actual event to start, please follow further instructions on the livestream to record your Check In and Check Out attendance on our website.
If you have any questions, or encounter any issues, please don't hesitate to contact us through our LINE Official Account (formerly LINE@) at @mot8001o. We really can't wait for you to join this excitement for once and for all!
Thanks for reading and see you soon!
#ERA
#TECHNO
#HIMTI2021
#OneFamilyOneGoal