#MeetOurLeaders : Get to Know our LCVP ER, Refrifa Marsha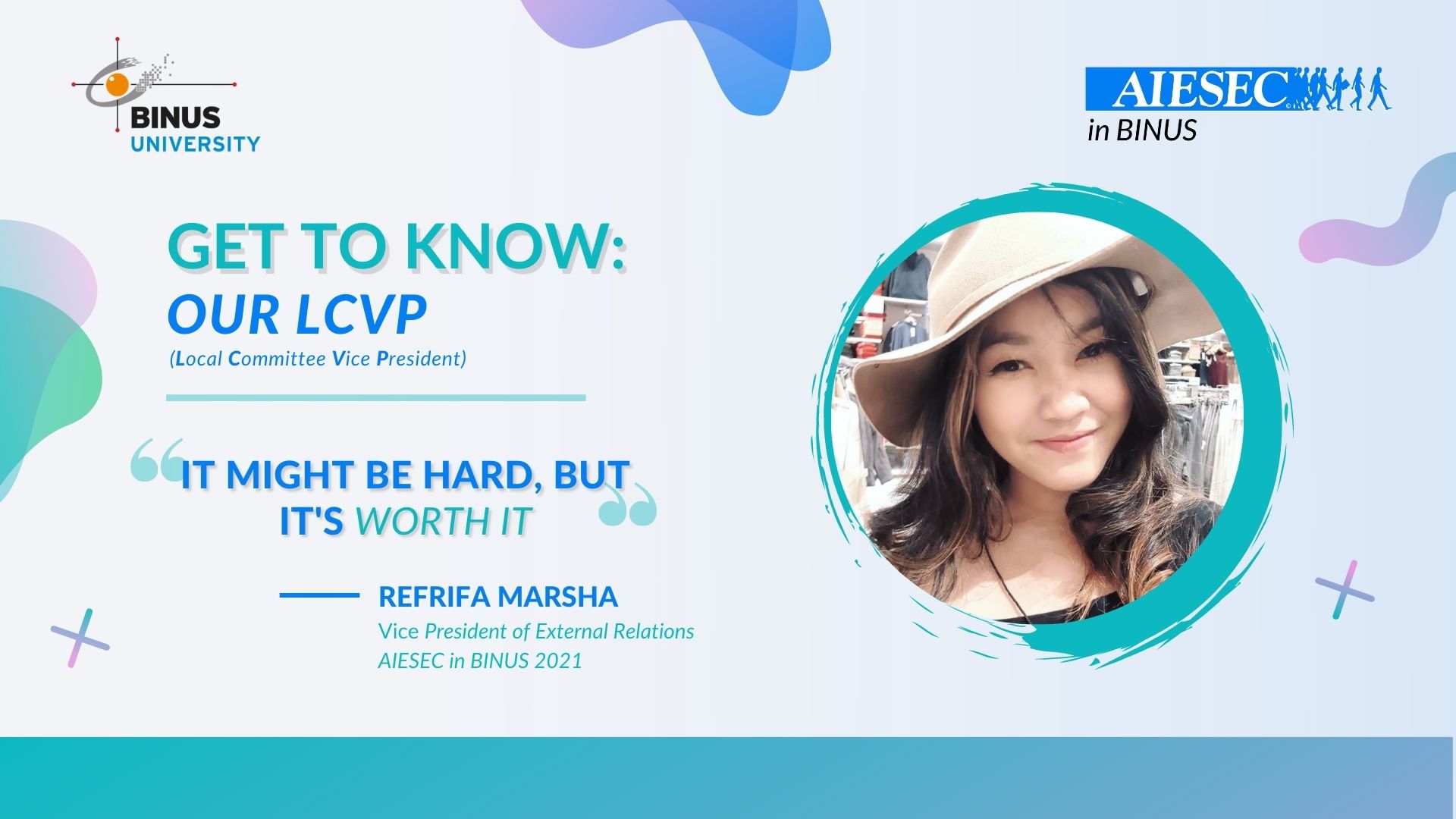 This week, we had the opportunity to #MeetOurLeaders and dive into the AIESEC journey of our current Local Committee Vice President of External Relation (LCVP ER), Refrifa Marsha. We have asked several questions regarding her AIESEC journey, and here's what she had to say.
How did you find out about AIESEC and what made you decide to join?
I first found out about AIESEC when I graduated from high school. It all started when I was surfing on Twitter and saw this one thread that really opened my mind. I remembered it discussed regarding "the things career life expects in us". From the thread, I found out that exam scores are only one of the many important things we needed to start a great career life. It emphasized on "experience is everything" and that experience is the best teacher. Then in the comments section, I saw a list of must-join international scale organizations while we are young. The organization that remained on my mind the most was AIESEC. At first, I had no idea what AIESEC was nor what it stood for. As I tried to find out more about AIESEC, the first ones that caught my eye were their youth leadership and cross-cultural exchange. As leadership is an essential skill which I wanted to develop ​​in myself, I was immediately interested in joining AIESEC. At that time I didn't know AIESEC was in universities, so I almost tried to register directly from the website haha! As soon as I knew that AIESEC was in BINUS, I registered without thinking twice because some opportunities don't come twice.
What made you want to take up the role of LCVP ER?
This is a tough question! To be honest, I considered many things before I decided to take on the role of LCVP ER. At first, I did plan on taking a higher role as a Team Leader because I didn't have the confidence to apply as an LCVP ER. This worsened after the pandemic when all activities were required to go online. At that point, I lost sight of my goals in AIESEC. I doubted my abilities and wondered, "What's my worth at AIESEC?" or "Am I worthy of taking higher roles?". It didn't cross my mind that I would take a higher role as an LCVP ER. I even felt that other External Relations members had more potential to become an LCVP ER. But thanks to my friends at AIESEC in BINUS who continued to encourage and provide me with a safe space whenever I don't feel okay, I dared myself to take a step and take this one chance to apply as an LCVP. As for my own selfish reason, I wanted to use this opportunity to improve myself by learning from the experience I went through as an LCVP as well as daring myself to get out of my comfort zone. As many that say experience is the best teacher, I hereby prioritize my experience in being the best version of myself. And for the selfless reason, I wanted to show members that AIESEC is the perfect place for them to develop into the best version they can be. I also wanted to provide and facilitate an environment where they can be comfortable and feel motivated to continue developing their potentials. I want members to feel what I felt by joining AIESEC — that many unexpected things are waiting for us here.
What was the toughest challenge you've ever faced in your experience? How did you overcome it? 
There have been times when I felt too overwhelmed as I had to adapt to both the online lecture system and organization. I can say that was the lowest point of my time as a member of AIESEC as it also affected my mental health. I had lost the confidence I built up and began doubting my own abilities. It never crossed my mind that AIESEC could help me get out of the abyss of despair and help me regain my confidence. I realized it when I was suddenly given the opportunity to become the Master of Ceremony for the AIESEC Expo held by the Talent Management team. It was my first-ever online public speaking experience and the offer came to me right when I was in self-doubt. I immediately said yes to the offer and I never regretted it. I tried to use this opportunity as best as I could to continually improve every time I'd be an MC. I was very nervous yet very enthusiastic at the same time. Since then, I never felt satisfied with my performance each time I became an MC, in the sense that I want to continue learning and developing at every opportunity. Now I believe that positivity always has a strong effect — almost likely like a butterfly effect. After that, I received many offers to become an MC at other organization events. Not only did I feel that my performance in the ER Department improved, but I also got to know more friends from different departments, who gave me new knowledge. I can surely say that my journey in AIESEC is full of surprises!
How is your experience as an LCVP so far? Any quotes or motivations for your teammates? 
There are so many ups and downs during my time as an LCVP ER. There are a lot of things that I have to make sure of and a lot of plans that I want to implement immediately. However, I also have to keep in mind that this is not just my journey as I have members with different goals when they decided to join AIESEC. I feel responsible for providing facilities for the development of each member. Each day, it burdens me a lot that I can't always tell whether I'm good enough to lead them or whether the current materials are enough to facilitate the development of each member. But somehow, I also enjoy my role as an LCVP ER. There are a lot of new doors that I can unlock and more and more things I can explore. The thing is, learning together and witnessing the development of each of my members bring me great joy. Those are the things that I am always grateful for and with that, I never regretted the path I took as it brought me to this point.
Whenever I feel like giving up, I always take a deep breath and tell myself, "It might be hard, but it's worth it"
To conclude, Refrifa Marsha was inspired to take up the role of an LCVP ER despite struggling with self-doubt. She believes that positivity always has a strong effect — almost like a butterfly effect. Whenever she feels like giving up, she always takes a deep breath and tells herself, "It might be hard, but it's worth it". By sharing her experiences as an LCVP of ER at AIESEC, she hopes that she can inspire others.