Striving For Excellence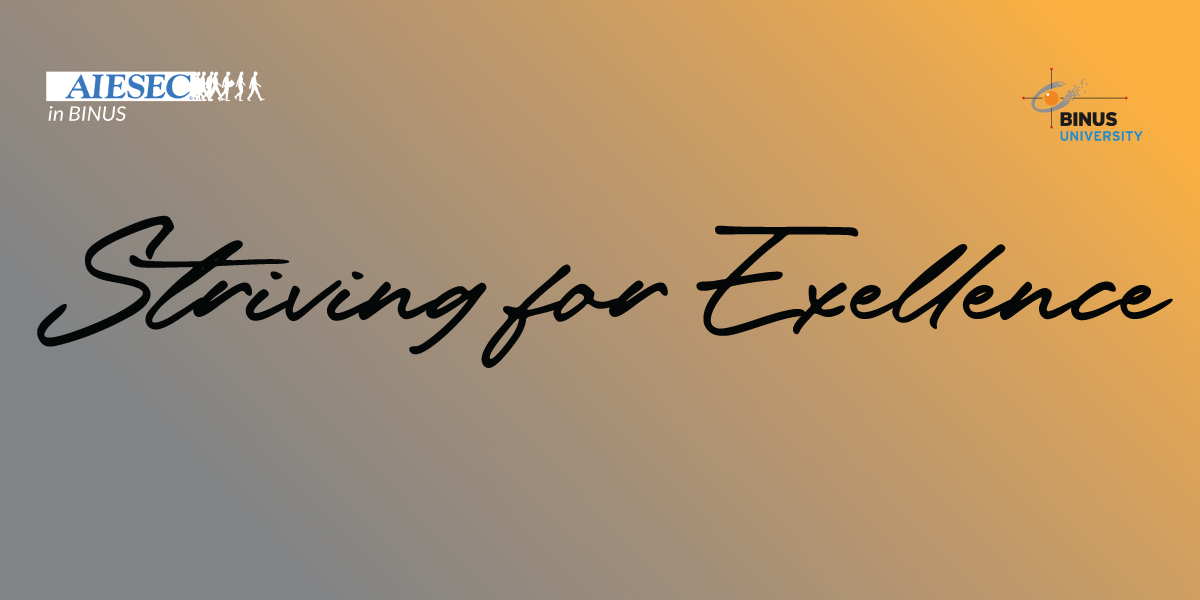 Striving for Excellence
Annisa Rahmayanti
LCVP of Talent Management
In AIESEC, we believe in the importance of making decisions according to our values. As an organization, we define our own values to lead us to decisions that we hope we will never regret. There are six values that won't be forgotten to take account of when making decisions, which are Striving for Exellence, Enjoying Participation, Living in Diversity, Activating Leadership, Demonstrating Integrity, and Acting Sustainably. We usually call or abbreviate these values by SELADA.
What we mean by Striving for Excellence is that we will continuously improve through creativity and innovation. We strive to deliver the highest quality performance in everything we do. How is the implementation? How do we implement it?
The implementations that are clearly expected by everyone are that we make plans, we make expectations, we create innovations, we set our goals, we work towards the goals, we make things work, and keep on expecting for more. We do them wholeheartedly, trying so hard for excellent outputs.
As was said before, Striving for Excellence has to be accountable in our decisions. We need to remember that decisions are made by humans. In an organization means it's the members who make the decisions. To answer the question about how we implement it, we have to plant this value in our members. To make decisions according to a value, we need to understand and believe that this value is important, so we will remember to never set aside this value when making decisions.
To make them understand and believe, we explain the clarity of Striving for Excellence (what it actually means, why it is important, what the plus and minus of the results are if we use it or not use it) and we provide experiences that naturally prove the implementation of the value.
So, after we talk about Striving for Excellence, can you imagine the whole concept of Striving for Excellence? Do you have a vision of the version of you implementing Striving for Excellence? If you see a positive vision, now it's your turn to Strive for Excellence.