Knowing the Limits as a Night Owl Student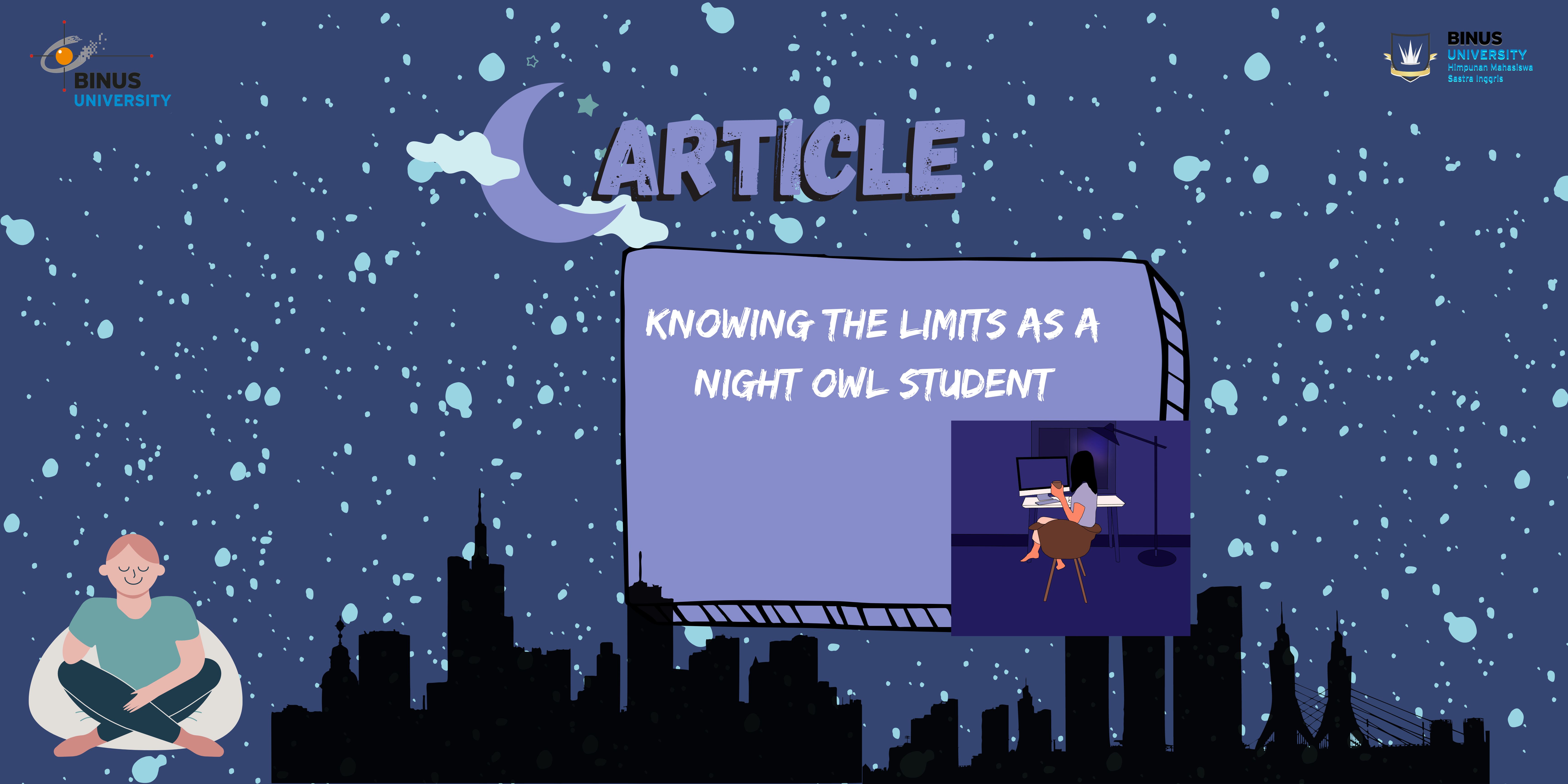 We have recently completed our finals of this semester which lasted until the middle of July. As a fellow Binusian, I respect the exam system, but the system appears unfamiliar to me as it is one where most of the tasks are given a week due deadline. Before enrolling in BINUS, I assumed the exams would be due in a few hours per exam day. However, this system leads to a machination in which students can be more analytical and critical in completing their respective tasks. Although the exam takes a long time, many Binusian prefer to crunch their work during the night; when the atmosphere is calm, hence there is plenty of space to focus. This night is an excellent opportunity for us to assess our abilities in in-depth analysis. Here, I would like to explore and explain to you why working on your exams in the evening can make you much more productive, though you also need to know when to stop.
Some Binusian I know, including myself, are night owls. It's a great feeling to have a time space all for ourselves where we can greatly focus on our work while everyone else is already asleep. Sacrificing our sleep schedule gives us an easier time to relax during the day. Either spend the time to sleep all day, do housework, or be with friends or families, there's no boundary. One of my friends does the same thing as me because it allows him to not work at a time when everyone else would be just as busy and it also allows him to create a smoother flow of work set in progression.  
However, as you might imagine, being a night owl has its own drawbacks. Sacrificing those precious eight hours of sleep always comes around to bite me in the back. Being sleep deprived is one thing, but working at night is another. Because, as a possible result, spending all your time working in the limited nighttime might make you oblivious of the daytime where you choose to spend its long period only on resting. Constantly forcing yourself into a night owl system can be fatal as you're more prone to working your body at times when it shouldn't be. This numbing of physicality can lead to you having to be hospitalized to which both your body and work would crumble. The solution to this? Easy, you have to be willing to abandon the notion that there's only one way to work on one certain schedule.
During the day, when you believe you can spend as much free time as possible, you need to be more mindful of how those times you spend should and can be planned. You have to consciously be your own brain's master to be able to tell it that believing being a night owl can solve everything isn't the right way to go, for your physical as well as mental health. It doesn't need to be an instant change, you can slowly adjust your plan by organizing your exam tasks from most to least challenging and how much you can hypothetically finish each and every single one of them. Then, you can make calculations of the time you need to finish them with the free time you want to give to yourself and other relevant times outside of working on those tasks. Additionally, I would like to add, that you should practice meditation. Practicing meditation is very beneficial in this case because it teaches you to both let go and find comfort alongside your burdens and be more mindful of how you can tackle those burdens at the same time.  
All in all, I don't think I would not consider myself a night owl for quite a long while. But, having written this article, I'm able to reconsider the faults that lie beneath holding strong onto that principle. I understand that our body has its limit, and this limit is important to always be in our consideration when working on something. Therefore, I'm now more aware and cautious about acknowledging my limit as a night owl student, and I implore you to do the same.
Editor: Hussaina Yasmine