NATIONAL ENGLISH OLYMPICS 2020 – THE MAGNOLIOPHYTA CLOUT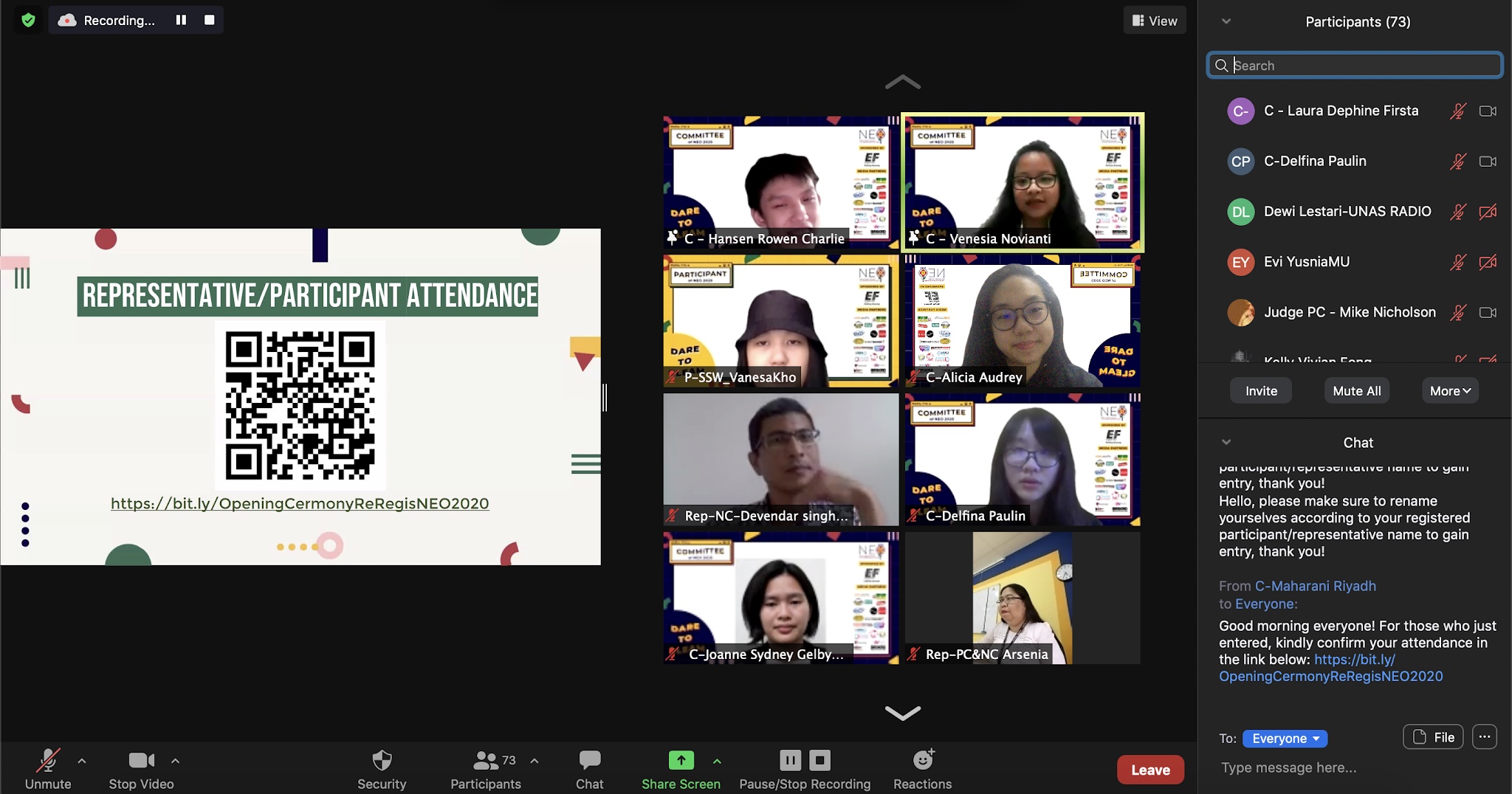 There are a lot of ways to improve our English language skills. It could be by joining an English Club, watching the Hollywood movies, listening to the English Pop, etcetera. On top of that, participating in an English Competition is a very good way to improve our English proficiency. On this ground, Bina Nusantara English Club conducted an extraordinary English Olympics, despite the pandemic nowadays.
National English Olympics (NEO) 2020 is the event held by Bina Nusantara English Club that can be joined by high school to college students from all over Indonesia. Special for this year, NEO was held online with 4 fields of competitions, which are short story writing, newscasting, speech, and podcasting. This event was held on November 28th – December 5th, 2020 with the theme "The Magnoliophyta Clout".
On first day of NEO 2020, a technical meeting and coaching clinic were held. At the technical meeting, the committees explained regarding the rules of each competition. Later, the judges as the expert of each competition delivered a seminar for the participants. The Day 1 of NEO 2020 started at November 30th 2020, in which the opening ceremony was held. On that day, there were welcoming speech from the Project Manager of NEO 2020, welcoming speech from the President of BNEC Alam Sutera, and greeting from a representative of judges. The next day, breaking announcement for prelimanaru round was started. Prior to that, general feedbacks were delivered from the judges of each competition. For Day 3, the semifinals live round for speech and newscasting competition were held. Each participant performed their best in front of the judges, and other participants. At the end of the day, judges delivered the general feedbacks, and announced the name of participants who successfully entered the  final round. On Day 4, the judges of podcast competition announce the finalist of podcast competition after the general feedbacks. The next day, there were finals live session of speech and newscasting competition. On Day 5, or the last day, the closing ceremony was held. The representative of SCAC delivered the congratulatory speech, followed by the congratulatory speech from the President of BNEC and Project Manager of NEO 2020, and the comments from the judges of each competition. Afterwards, the moment that had been waited by the finalist came, in which the winners announcement. The MCs announced the winners of each competition, started with speech, followed by newscasting, podcast, and short story writing.
The total of participants in this year's NEO was 101 people, consisted of ; 26 participants of speech competition, 25 participants of short story writing competition, 25 participants of newscasting competition, and 25 participants of podcast competition. Overall, this event was successfully held with the help of the sponsors, media partners, and of course the enthusiasm from all of the participants.