International Talk Show Registration 2020 (2020年国际脱口秀) 📢 OPEN FOR PUBLIC📢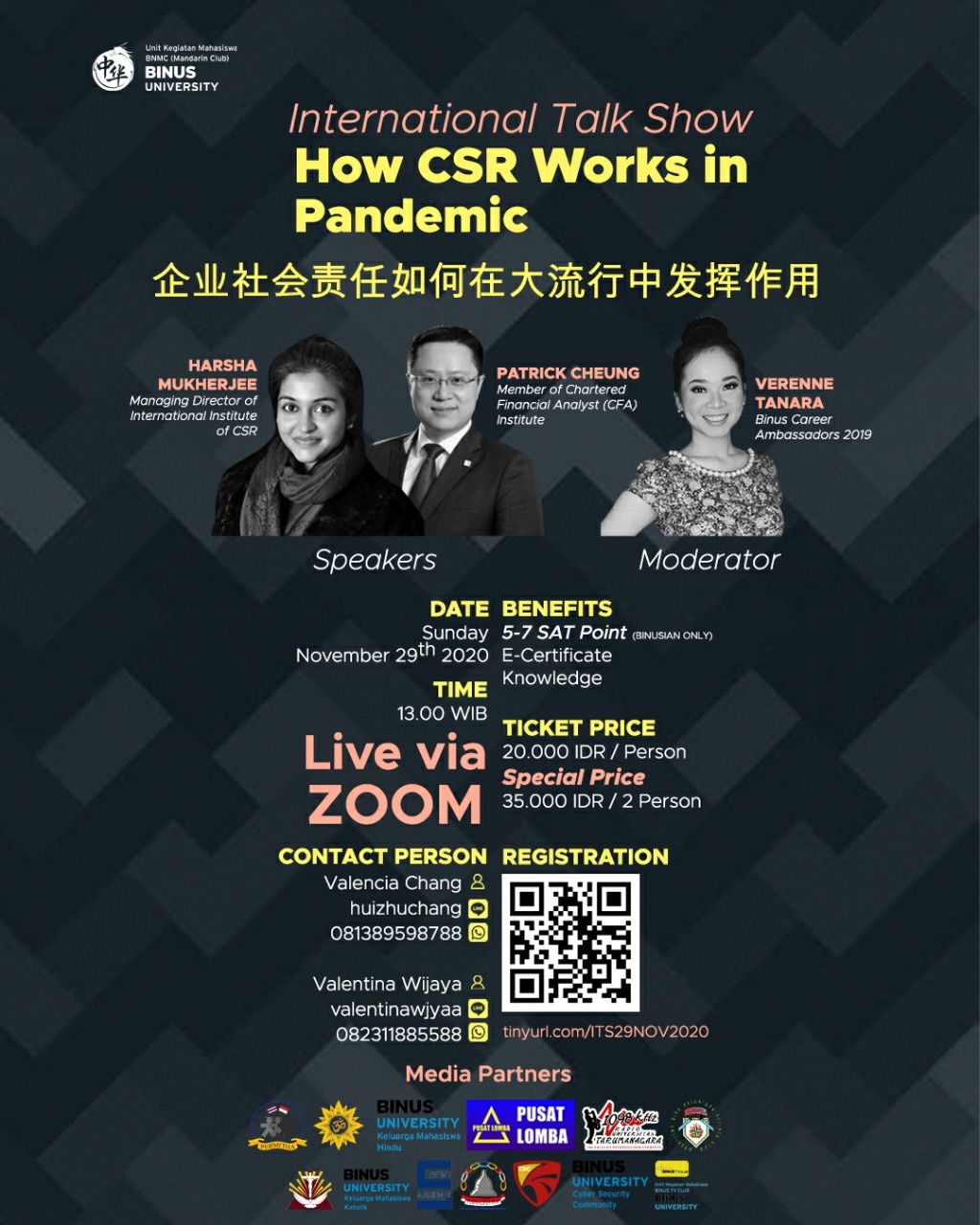 大家好!
BNMC (BINUS Mandarin Club) PROUDLY PRESENTS!!🌎
INTERNATIONAL TALK SHOW : "How CSR Works in Pandemic"
Corporate Social Responsibility (CSR) is a management concept whereby companies integrate social and environmental concerns in their business operations and interactions with their stakeholders. Through this seminar, we aim to increase knowledge about CSR progress at global level, increase awareness of the importance of CSR, and to understand the differences between CSR in Indonesia and China.
Speaker 1 👩🏻‍💼:
Harsha Mukherjee (Managing Director of International Institute of Corporate Sustainability and Responsibility)
Speaker 2 🤵🏻:
Patrick Cheung (Senior Investment Analyst from Hong Kong)
Moderator👩🏻:
Verenne Tanara – Binus Career Ambassador 2019
COME AND JOIN US!!
📅 : Sunday, Nov 29th 2020
⏰ : 13:00 – 15:15
🌐 : Zoom Meetings
BENEFITS :
✔️ 5-7 SAT Points (for Binusian)
✔️ E-Certificate
✔️ Knowledge
PRICE LIST :
💸 IDR 20,000 for 1 People
💸 IDR 35,000 for 2 People
RESERVATION BASED ON PAYMENT
For further information:
👧🏻 Valencia Chang
💬 (ID Line) huizhuchang
📞 (WA)0813 8959 8788
👱🏻‍♀️ Valentina Wijaya
💬 (ID Line) valentinawjyaa
📞 (WA)0823 1188 5588
https://tinyurl.com/ITS29NOV2020