Donate-It!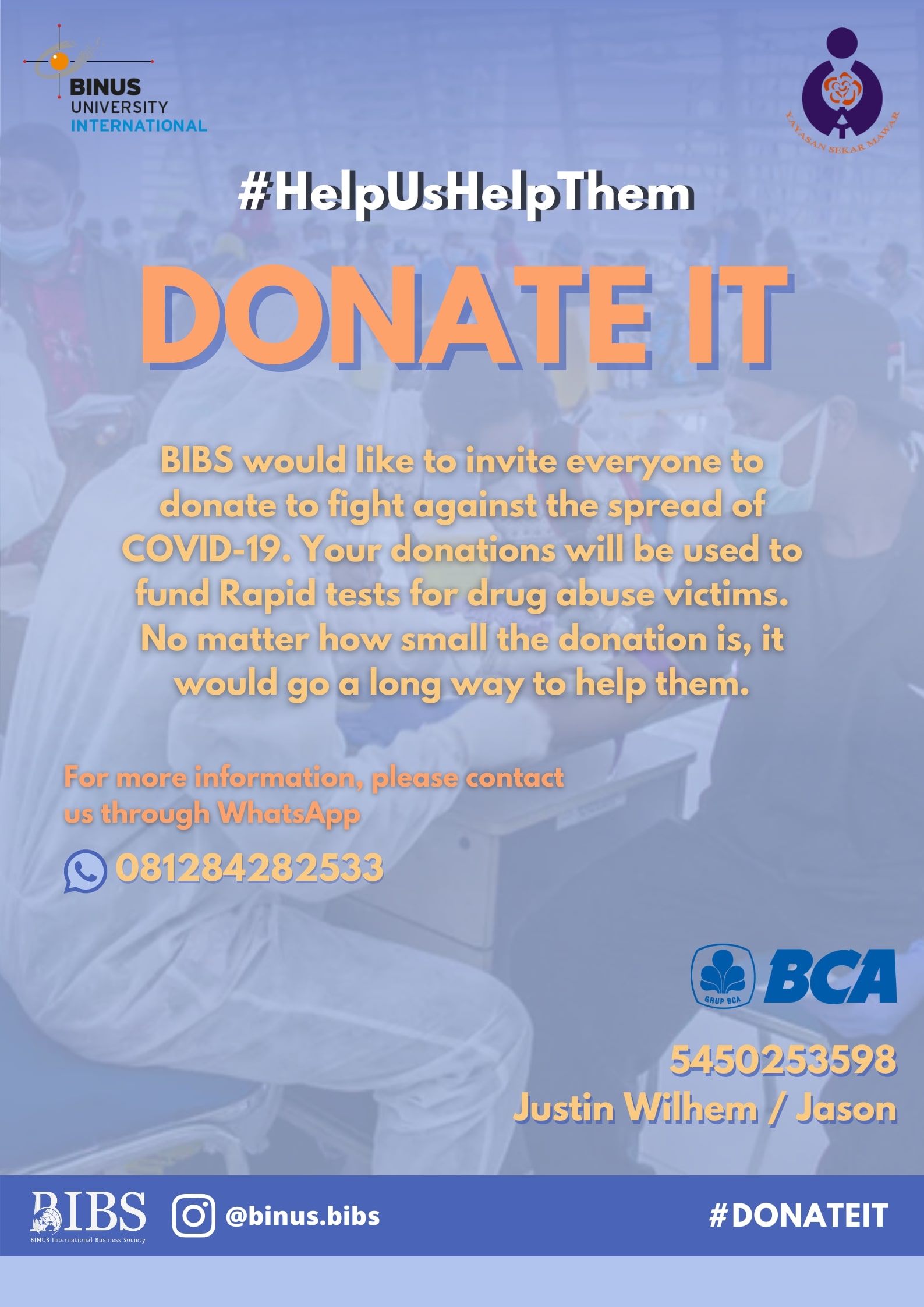 Hi Binusians!
We at the Binus International Business Society are proud to present this year's Donate-It event!
Donate-It is a fundraising event that will be conducted by BIBS. As a college student we would like to raise awareness and support against COVID-19. Fundraising event aids in the development of interpersonal partnerships. It helps us feel wanted in the community, which is particularly crucial for building trust in people with learning disabilities. Organizing or engaging in a fundraising event will greatly aid in the development of leadership skills. Any effort, no matter how large or small, makes a difference. Participating in a fundraising event will help us develop new things, such as how to draw participants to the event, how to support it, or how to accept responsibility for the position we have been assigned. And most importantly, it help us to contribute for a good cause.
This year's Donate-It event will have the theme of helping those vulnerable to COVID-19, we will work together with Yayasan Sekar Mawar to provide their residents with rapid test kits to help find out and contain the spread of COVID-19.
Yayasan Sekar Mawar is a social foundation under the supervision of the Bandung Diocese which is engaged in overcoming the problem of drug abuse (Narcotics, Psychotropics, and other addictive substances), or otherwise known as a drug rehabilitation centre. This foundation was established out of compassion and concern for a situation, namely the growing number of victims of substance trafficking in the city, especially among the younger generation. Drugs and their consequences have been seen to kill the joints of life as well as the future of people, households, and cultures. Addressing the issue of opioid addiction is now the responsibility of all aspects of society, not just the government. Sekar Mawar Foundation aims to help by rehabilitating opioid addicts through the Rehabilitation Center and avoiding systemic drug addiction through group socialization. Sekar Mawar Foundation was formed in 2000 by clergy and community leaders in the Bandung Diocese, the name SEKAR MAWAR Foundation was given by the Bishop of Bandung at that time, the late. Mgr. Alexander Djajasiswaya.
Currently, we are accepting donations at the following BCA account: 5450253598
For more information, please don't hesitate to contact us at @binus.bibs or through this WhatsApp number (081284282533)
We hope you will consider donating!
Binus International Business Society